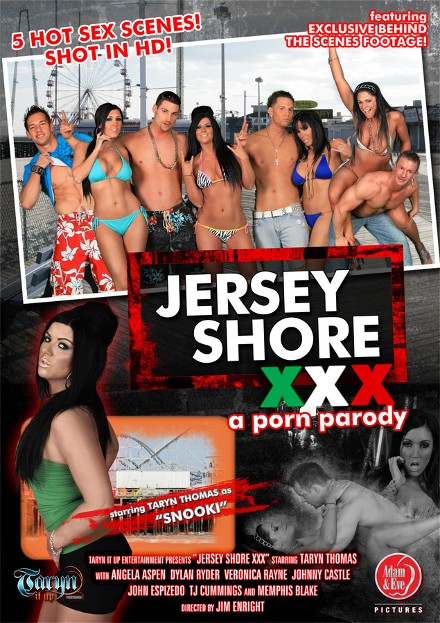 For Immediate Release 'Jersey Shore XXX' Streets Today & Taryn Thomas Celebrates On 'The Howard Stern Show' Wednesday, February 24th (Jersey Shore, NJ/February 23, 2010) — Fists will soon be pumping across the U.S. as Jersey Shore XXX: A Porn Parody hits stores today. The project, created by porn star and New Jersey native Taryn Thomas, has received an incredible amount of advance press and buzz for months now, and now the wait is finally over movie hitting adult retailers everywhere.
To help celebrate this monumental occasion for Taryn and her upstart company, Taryn It Up Entertainment, the girl once voted by fans as "The Dirtiest Girl in Porn," will be appearing on "The Howard Stern Show" this Wednesday, February 24th at 8:30 am. Taryn will be talking about the movie, as well as giving a glimpse into her wild on and off-screen life. The show can be heard on SiriusXM on channel 100.
"I am so excited that this movie is out and can't wait to get feedback from fans of both adult and the MTV show. I also can't wait to see Howard, Robin and the gang at 'The Stern Show' once again," Taryn said about this, her third appearance on the show. "I've been a fan of Howard for years and I'm ready to answer anything and everything about Jersey Shore XXX, my opinions on 'the other Snooki' and my personal life. Bring it on!"
Taryn will also be appearing throughout the day on several other popular SiriusXM shows Wednesday including "Covino and Rich," "Icebreakers" and with Frank DeCaro on OutQ.
Jersey Shore XXX: A Porn Parody spoofs the popular MTV reality show and stars Taryn as "Snooki," with Veronica Rayne, Dylan Ryder, Angela Aspen, T.J. Cummings, Johnny Castle, John Espizedo and Memphis Blake. Directed by award-winning, hall of fame director Jim Enright and distributed by adult powerhouse Adam & Eve, many of the most popular moments from the breakout hit show are parodied in what is sure to be one of the most popular adult DVD releases of the year.
"Advance sales are phenomenal," says Ryan Thomas, head of sales and marketing for Adam & Eve Pictures. "We are already into reorders. For us to get this positive response and support is great. We're riding all the buzz about movie, the tv show and Taryn's resurgence right now, and we are proud to be distributing this movie."
Taryn and members of the cast have been busy over the last month with appearances around the country that have included feature dance appearances, parties at mainstream nightclubs, presenting at awards shows, doing signings at events, participating in interviews and spreading the word about Jersey Shore XXX in an incredible viral marketing campaign. And they're just getting started, as there's a packed calendar with much more to come as Taryn and her cast of hardcore guidos and guidettes are set to bring the real Dirty Jersey to the rest of the country!